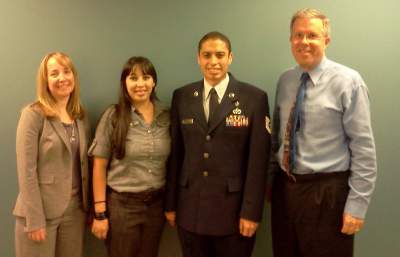 Attorney Amy Prokop, Karina Magana, Staff Sgt. Luis Magana, Attorney Carl Shusterman
Air Force Staff Sergeant Luis Magana immigrated to the United States from Mexico. Now a proud U.S. citizen, he enlisted in the U.S. Air Force, and served two tours of duty in Iraq and Afghanistan.
After he returned, his wife Karina, a permanent resident of the U.S. applied for naturalization. However, the government examiner at her naturalization interview told her that her application would be denied, and that she would be deported from the U.S.!
Why? What had she done? Had she committed a crime?
According to the examiner, Karina had obtained her green card by fraud, and his accusations brought her to tears. It also caused great concern to Sgt. Magana who was scheduled to be deployed once again. Would Karina really be deported? What would happen to their U.S. citizen children while he was serving his country?
The couple drove to my office that same day where Karina told me her story. She was sponsored for a green card at a tender age by her U.S. citizen step-father. Somehow, the process dragged on past her 16th birthday. At her interview, the examiner was insulting: "Are you pregnant? Are you married?" "Neither", she replied, "I'm only 16 years old!" Finally, the examiner informed her that she needed a fingerprint check.
The process dragged on two more years, and the USCIS informed Karina by mail that they needed to take her fingerprints once again. By this time, she was married and she asked the USCIS to postpone her fingerprint appointment because she was "pregnant".
The government did so. Karina took new fingerprints, and eventually, USCIS sent her a green card in the mail. Of course, as any immigration attorney knows, Karina was no longer eligible to immigrate as an "immediate relative" of her father because she was married. Karina, however, did not know this, and one has to wonder what the USCIS was thinking. Probably just another bureaucratic mistake.
Rather than admit that the government had made a mistake, the examiner at her citizenship interview accused her of fraud in obtaining permanent residence, denied her application for naturalization and threatened her with deportation. The nightmare begins.
Although I assured them that the mistake was on the government's part, and that she would not be deported, Karina and her husband were to spend the next two years worrying about what would happen to her. Their fear intensified after the government ignored our pleas and issued her a Notice to Appear in removal proceedings which alleged fraud on her part.
The matter dragged on and on. We denied the charges, and requested a change of venue to Los Angeles which was granted. However, the ICE Assistant District Counsel refused to drop the fraud charge. The matter was only resolved after Attorney Amy Prokop approached the ICE District Counsel in Los Angeles and an agreement was reached. The government would withdraw the fraud charge, and we would apply for a waiver of removal before an Immigration Judge. The government did not oppose the waiver which the Judge granted, and the threat of deportation evaporated into thin air.
Victory at last!
Next step: Naturalization
---
About The Author

Carl Shusterman is the managing attorney of Law Offices of Carl Shusterman based in Los Angeles, CA. He has specialized in immigration law for over 30 years and his six-attorney law firm represents clients in all 50 states. Mr. Shusterman is a 1973 graduate of the UCLA School of Law. He served as an attorney for the U.S. Immigration and Naturalization Service (INS) until 1982 when he entered private practice. He is authorized to practice before the Supreme Court of California, the Federal District Court in the Central District of California, the U.S. Court of Appeals in a number of different circuits and the Supreme Court of the United States. Mr. Shusterman is a former chairman of the American Immigration Lawyers Association (AILA), Southern California Chapter and served as a member of AILA's National Board of Governors (1988-97). He has chaired numerous AILA Committees, spoken at dozens of AILA Conferences and has contributed a number of scholarly articles to AILA's publications. Mr. Shusterman is a Certified Specialist in Immigration and Nationality Law, State Bar of California. He has served as a member of the Immigration and Nationality Law Advisory Commission for the State Bar. He has been named as one of Best Attorneys in America and as a SuperLawyer for many years. He is a frequent writer and lecturer on immigration law. Mr. Shusterman has testified as an expert witness before the Senate Subcommittee on Immigration in Washington, D.C. His website, www.shusterman.com, receives over 1,000,000 hits each week, and his free, e-mail newsletter has almost 60,000 subscribers in more than 150 countries.
---
The opinions expressed in this article do not necessarily reflect the opinion of ILW.COM.
---