The EB-5 Summit For Attorneys and Developers
Los Angeles, CA - February 28th, 2014
Speakers: David Hirson (Discussion Leader), Kamyar Amiri-Davani, Allen Chi, Lauren Cohen, Ronald Darling, Matt Gordon, Patrick Harvey, Nima Korpivaara, Cheryl Lane, Rod Oshita, Angelo Paparelli, Reid Thomas, and Katie Wu.
CLOSED
WHO SHOULD ATTEND
This event will be beneficial to anyone involved in EB-5. The event day will bring together experts and practitioners on all sides of the EB-5 equation. After each panel, guests will have the opportunity to discuss EB-5 issues among themselves and with speakers. This is a CLE workshop, however it is designed to be materially useful to Regional Center executives and real estate developers also, in addition to immigration attorneys.
WORKSHOP OUTLINE
8:30 - 9:00

Registration - Continental Breakfast and Handouts Provided

9:00 - 10:00
The Regional Center View: Structuring the Deal and Finding Investors

10:00 – 10:10
Networking Break

10:10 - 11:00
Lawfully Advising on Choosing A Project

11:00 - 11:10
Networking Break

11:10 - 12:00
Developing the 924 Application

12:00 – 1:00
Lunch - Keynote Luncheon Speaker - Patrick Harvey

1:00 – 1:50
526 Petitions and Source of Funds Issues

1:50 - 2:00
Networking Break

2:00 - 2:50
829 Applications and Documenting Job Creation

2:50 - 3:00
Networking Break

3:00 – 3:30
Funds Administration

3:30 – 3:40
Networking Break

3:40 – 4:10
Innovation in EB-5, The Non-Regional Center Concept

4:10 – 4:20
Networking Break

4:20 – 4:50
Risk Management in EB-5

4:50 – 5:00
Networking Break

5:00 - 6:00
Special Topics on EB-5 - Due Diligence, Market Sentiment in China, Political Changes in EB-5, Business Plans, Current trends, USCIS Adjudications Memo, Licensing Third Party Projects, and More.

EVENT SPONSORS:
Sponsored by:

| | | |
| --- | --- | --- |
| | & | |
E3 Investment Group structures offerings that allow foreign investors the opportunity to receive green cards under the U.S. Government's EB-5 program. They have a unique expertise in creating opportunities that do not involve regional centers, but offer all of the benefits of a scaled organization without the negatives. They call this Scalable-Direct. In essence, they are the Non-Regional Center.
NES Financial is an innovative provider of highly secure, compliant and transparent financial administration solutions for complex financial transactions, helping streamline EB-5 administration and secure document sharing. NES Financial's Escrow Administration Solutions simplifies the EB-5 Visa escrow process with highly-secure technology that is quick to set up, easily manages escrows and provides unlimited subaccounts for Regional Center principals and investors. NES Financial's EB-5 Virtual File Share provides Regional Centers, investors, attorneys and brokers with secure centralized document exchange and storage capabilities to streamline the investment-offering process. A cloud-based, easy to use system archives documents associated with a Regional Center's development project and provides secure access for all stakeholders from anywhere and at any time. NES Financial is headquartered in San Jose, California, with offices in Chicago and Boston.
To become a sponsor, click here.
ABOUT THE SPEAKERS
| | |
| --- | --- |
| | David Hirson (Discussion Leader) With 30 years experience in the practice of immigration law, David co-manages the Firm's Irvine office and is the partner in charge of Fragomen's Consular Practice, which facilitates the processing of U.S. nonimmigrant and immigrant visa applications filed at U.S. Consulates and Embassies worldwide. He has been certified as a Specialist in Immigration and Nationality Law by the State Bar of California, Board of Legal Specialization for 20 years. He has assisted companies with start-up expansion, merger and acquisition relating to immigration law, compliance and case processing. He files Regional Center applications and individual Green Card applications for investors under the EB-5 Investor Visa category- considered an expert in this particular field: Has been involved with EB-5 cases since passage of the law in 1990. He was present in the Senate in Washington DC when the EB-5 bill was marked up and Senator Biden, now Vice President Biden was debating the proposed new law. In 1991, personally prepared and filed one of the very first EB-5 cases with the INS (now USCIS). The case was approved; the same case was the first case to be consular interviewed and approved at the AIT in Taiwan. He successfully filed and received approvals of many cases in the first 10 years of the program. Only about 300 cases were approved annually by the INS/USCIS in the early years of the program. After 2000, the program began to pickup and the approved EB-5 cases broke through the 1000 barrier. He personally argued appeals at the Administrative Appeals Office (AAO) and had 4 cases approved after they were denied by the INS/USCIS and certified to the appeal unit. He has applied for several regional centers to be designated and approved by USCIS. The most recent of which was in 2009- the PUMA Regional Center in Riverside, CA; and a Regional Center covering the state of Utah. He is the partner leading the EB-5 team in the Irvine office, comprised of attorneys, supervising paralegals, paralegals, legal assistants and administrative staff and referred many of the EB-5 cases within the US Fragomen offices – San Diego, Los Angeles, Dallas, Boston, and Washington DC. |
| . | Kamyar Amiri-Davani is a co-founder of the EB5 Investors media network, consisting of EB5 Investors Magazine, EB5Investors.com, and the EB-5 conference network including the Southern California EB-5 Conference. Mr. Amiri-Davani serves as vice president of product development at the company, bringing technical experience in web application development, marketing, and search engine optimization. He has previously co-founded LawQA.com, a free legal information web platform acquired by Total Attorneys in 2011, and has served as a director of marketing and project manager for over 6 years at the digital media firm Outclick Media. Mr. Amiri-Davani received his B.A. from the University of California, Los Angeles. |
| . | Allen Chi is the CEO at Mason Investments. He oversees the operations of Mason and is also responsible for regional center relationships. He was formerly a Partner at Celerity Partners, a private equity firm, where he oversaw an investment portfolio valued at $1 billion, developing a personal investment track record with a 65% annual rate of return. Prior to Celerity, Allen helped lead the turnaround of Merisel, a $6 Billion technology company, where the stock price returned 800% during his tenure. Allen started his career at Bain & Company and is a graduate of Stanford University. |
| . | Ronald Darling is a the CEO of American Redevelopment Regional Center. |
| | Matt Gordon is a the Managing Director of E3 Investment Group. He is a finance professional whose vision and passion is to help realize extraordinary value through the flawless planning and execution of strategy, financings and transactions that foster aggressive sustainable growth. Mr. Gordon is a licensed attorney, having practiced law with some of the most prestigious Wall Street firms, including Fried Frank and Sullivan & Cromwell. He is a member of the New York State Bar and holds SEC securities licenses. |
| | Patrick J. Harvey (Keynote Luncheon Speaker) has a B.S. in Finance & Philosophy from Fordham University. He started his career as a DOT Operator for Fossett on the NYSE Futures & Options Floor. Within three months, he became a specialist clerk on the American Stock Exchange for Charlton, Goin & Spearleeds. At the six-month window, he became an options trader for Fossett Securities; he traded firm capital for several years, taking negative-gamma risk positions in companies such as Dupont, Westinghouse and Phillip Morris. Circa 1995, Mr. Harvey held a Series 7, 63 and 55. In 1998, he became a partner at Precision Trading Group in Stanford, CT. Two years later, he moved on to trade with U.S. Securities & Futures in NYC, trading stocks, futures and options. Mr. Harvey began trading currency for Sanwa Bank of Japan in 2001. While there, he traded currencies, currency futures and options, and interest rate swaps. In 2003, Mr. Harvey moved over to Opus Fund at BNP Paribas where he traded commodities – oil, gas and hydrocarbon products. This developed into fund management. As a PE manager, he invested in the project development of, as well as traded in, the commercial feedstock and off-take products of refineries, power plants, solar and wind farms, and ethanol facilities. During this timeframe, his team deployed capital into numerous, large-scale, energy-related infrastructure projects. In 2006, he left the fund to pursue grass-roots start-up investments. In 2007, Mr. Harvey joined ABK Venture Group as a part-time advisor, and then became a Partner and subsequently a managing partner. He pursued venture capital, private equity fundings and foreign direct investments utilizing EB-5 capital. In 2011, ABK was awarded the sole financing contract for the Louisiana International Gulf Transfer Terminal (LIGTT). Mr. Harvey and Mr. Alan Valdes are the two founding principals of the LIGTT venture. Mr. Harvey provides commentary at the NASDAQ and NYSE for Reuters-CCTV, Phoenix, Wall Street Multimedia and Xinhua. |
| | Ali Jahangiri is publisher of EB5 Investors Magazine. He is also a board member of Gen Next, Inc. |
| | Nima Korpivaara is an Associate at Fragomen's Irvine office. He handles immigrant visas for large information technology companies and evaluates, prepares, and files EB-5 investor applications. Prior to joining Fragomen, Nima worked as in-house immigration counsel for a large information technology company. |
| | Cheryl A. Lane, founder and president of the Lane Group of Companies, has 30 years experience as a private investment banker, financial advisor and professional trustee serving business owners, property owners and family estates. Collectively, the companies are positioned to consult on, plan for and execute all types of transactions that a business or estate may require as it navigates the many transitions of a long and successful life cycle. Cheryl and her team are experts in developing complete and effective financial strategic plans. Chrysalis Capital Group, LLC, is one of the seven companies Cheryl guides under the Lane Group of Companies banner. |
| | Angelo Paparelli is a partner of Seyfarth Shaw LLP. Mr. Paparelli, with a bicoastal practice in Southern California and New York City, is known for providing creative solutions to complex and straightforward immigration law problems, especially involving mergers and acquisitions, labor certifications and the H-1B visa category. His practice areas include legislative advocacy; employer compliance audits and investigations; U.S. and foreign work visas and permanent residence for executives, managers, scientists, scholars, investors, professionals, students and visitors; immigration messaging and speech-writing; corporate policy formulation; and immigration litigation before administrative agencies and the federal courts. He is frequently quoted in leading national publications on immigration law. He is also President of the Alliance of Business Immigration Lawyers, a 30-firm global consortium of leading immigration practitioners. Paparelli's blog and a comprehensive list of his many immigration law articles can be found at www.entertheusa.com. He is an alumnus of the University of Michigan where he earned his B.A., and of Wayne State University Law School where he earned his J.D. Paparelli is admitted to the state bars of California, Michigan and New York. |
| | Reid Thomas is the Executive Vice President at NES Financial, leading the company's sales and marketing organization. He brings over 20 years of executive management experience at both private and public companies, including Laszlo Systems, Octel Communications, and VINA Technologies. During his time with NES Financial, Mr. Thomas has been instrumental in the rapid growth of the company's EB-5 business, making NES Financial the leader in EB-5 by providing innovative solutions specifically built for the industry. Mr. Thomas' active participation in the EB-5 community has made him a frequent and sought after speaker at events and conferences across the country. He has written numerous articles, blogs, and white papers on the topics of escrow and fund administration, solidifying his position as an industry expert. |
| . | Katie Wu joined Fragomen in 2012 and became an Associate at the Irvine office in 2014. She has experience with employment-based temporary and permanent visa categories and has worked on cases for clients within the arts and sciences industries. She is part of the firm's dedicated EB-5 practice group, advising corporate and individual clients in varying industries on how to structure their investments to make it compliant with the EB-5 investor green card program. |
ABOUT THE LOCATION: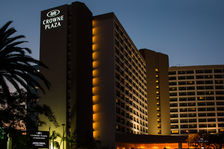 Crowne Plaza Los Angeles International Airport
5985 West Century Boulevard
Los Angeles, CA 90045

For reservations, call (310) 642-7500 and ask for the "Catering Rate" for an extended 10% Off the Best Unrestricted Rate per room, per night (taxes not included). Or reserve online by clicking here.

MATERIALS
Material included in the registration price is The EB-5 Book ($199 value) and Forming and Operating an EB-5 Regional Center: A Guide for Developers and Business Innovators ($199 Value).
CLE CREDITS:
ILW.COM is accredited CLE Provider in State of California and Texas. Attorneys admitted in AK, CO, FL, MT, ND, NJ, NY (some exclusions apply) and WV are able to obtain MCLE credits through reciprocity with State of California. For remaining states, which require MCLE but do not accept reciprocity with any other jurisdiction, Certificate of Attendance for obtaining a self-study credits is available. Please note, CT, DC, MA, MD, MI and SD do not require MCLE.
TESTIMONIALS
Here are some participants' testimonials from previous workshops:
"Excellent comprehensive presentation that provided a perfect entree to the EB-5 Visa Category" - Mark Kalish

"Access to so many acclaimed professionals in the field at one time is well worth it." -Rani Emandi

"Great "Intro to EB-5" workshop. Get to hear from all parts of the EB-5 Industry." - Catharine Yen

"I think this would be useful to all people seeking investors from other countries." - William Howell

"Coming in with no prior legal, let alone EB-5, experience, I found the lectures very logically formed & easily accessible." - Khalid Raoof

"An essential conference to stay on the cutting edge of EB-5." - Boyd Campbell

"I like the format/organization of the topics presented during the workshop." - Pamela Toyos

Very positive and structured with an emphasis on cutting edge information." - Michael Harris

"A frank and informed foundation for dealing in the EB-5 visa world." - Art Williamson

"Excellent info on EB-5." - Mazher Shah-Khan

"The EB-5 discussions are essential and understanding new trends and USCIS recent policies which effect a successful EB-5 project." - Ed Beshara

"It teaches everything about EB-5 in a day. It was worth travelling from India to attend this workshop." -Sudhir Shah

"I learnt a lot. All the speakers are very knowledgable and articulate. The discussion is very lively and not boring at all."-Yee Ling Poon

"The EB-5 Workshop provides hands-on, practical knowledge straight from experienced stakeholders. Highly recommended." -Jesus Rios
REGISTER NOW
If you prefer to sign up by mail or fax or to learn more about the sponsorship opportunity click here.
Disclaimer: participation in this workshop does not create an attorney-client relationship with the speakers
---